The pros and cons of acoustic panels
Acoustic panels might sound like something that is installed in sound recording studios or classical music concert halls. Yes, these places do have special ceilings and walls that absorb sound so that it does not echo or pass outside.
However, acoustic panels can also be useful in other settings. They can make an office seem quieter, lower the level of ambient noise in a restaurant and even reduce the empty echoing in your home so that it feels more pleasant and welcoming. Acoustic ceilings can also dampen the sound coming from one level of a home so that the noise does not pass upstairs or downstairs.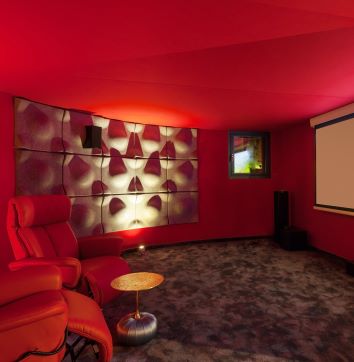 These sound-absorption capabilities are also useful in hospitals, hotels, classrooms, meeting spaces and apartment buildings.
Noise reduction and soundproofing are the main benefits of acoustic panels. Because many acoustic panels are thick and made from material that is similar to insulation, they can also help regulate temperature within a home or within certain rooms where they are installed.
The thickness of acoustic panels can be a drawback. Since these panels are often installed as part of a drop ceiling, they do not work well in places that already have a limited amount of headspace. Also, though they are effective when it comes to their primary purpose, to absorb sound, they also absorb other things. Dirt, dust and moisture can become problems for people who have installed standard acoustic panels in their home or business.
Micro-perforated stretch ceilings are an alternative to acoustic panel ceilings. Reflexio has cloth-like room coverings that are stretched across the ceiling or wall and fastened to a special frame. They can absorb sound and create a quieter environment just like thicker sound dampening options. However, because they are thinner, the stretch ceilings are much more attractive. Reflexio can even customize the ceiling by printing images or logos on it.
The Micro-Perforated Stretch Ceiling by Reflexio Design is produced using a synthetic vinyl material. It is easily washable and surprisingly attractive, so it can provide similar sound benefits as acoustic ceilings without some of the major drawbacks. If you are looking for something that can provide you with the best of both worlds - acoustic benefits plus easy maintenance - Reflexio's stretch ceiling could be the ideal choice.